happy monday devfriend!
Sending you super positive vibes for your week! ❤️
I had a pleasant (but rather irksome) experience this weekend, when I discovered that a conference talk I did last year at Abstractions II, "MUD to OOP: Intro to Object-Oriented JavaScript in Text-Based Roleplaying Games", was recorded and posted to YouTube back in NOVEMBER. Never got a notification, but whatevs.
I spent the other day watching it and I had the BIGGEST SMILE on my face. Sometimes I couldn't even follow what I was saying 😂 and honestly, I need to be a lot better prepared next time. I added stuff to my presentation at the 11th hour, and it ended up causing issues. oh well.
But you know what?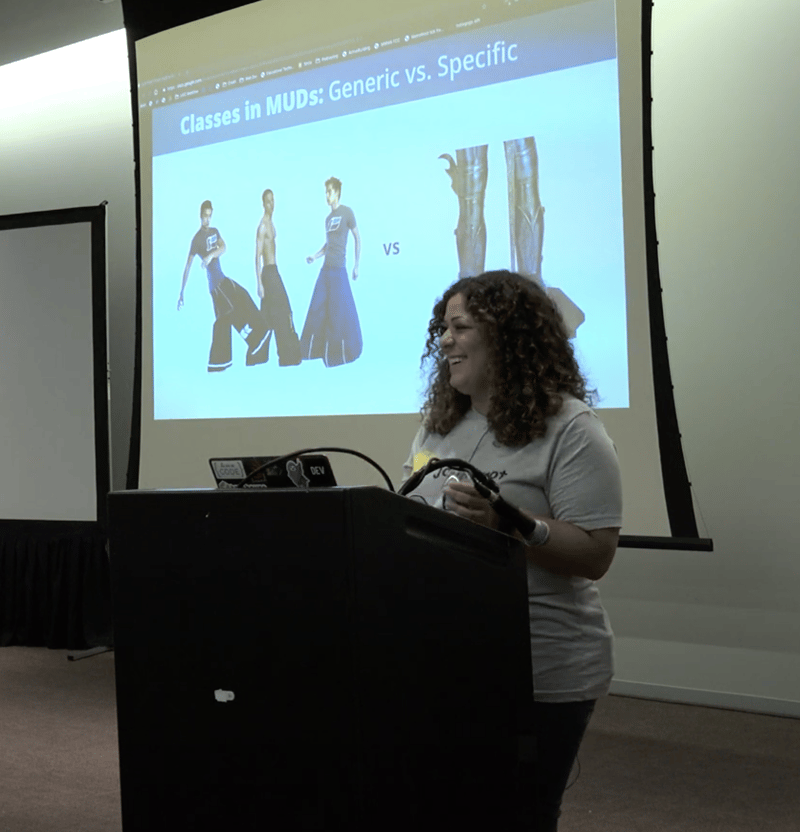 I thought that chick up there talking excitedly about her passions and special interests had incredible energy, seemed super legit, and was having the time of her life. It made me so proud to finally work in an industry I care so much about that I'd fly somewhere to gush about it in a room full of people. 😊
If you'd like to watch my presentation, it's here on YouTube. Don't mind all my "um"s, I'm getting better at presenting!
Oh, quick question, too: would you attend if I held a live problem solving stream, where you help me pick a code challenge, and we break it down and solve it together to the point where you'd normally start writing code?
Shoot me a reply to let me know if you'd show up to something like that, and I'll figure out how it'll work. :)
No real announcements this week, just some heads up on stuff! ⬇️
You need to check out Newbie Coder School!
So, Newbie Coder School is my new suite of self-paced online courses and cohort programs designed to help serious coders build fundamental skills—ALL without a line of code.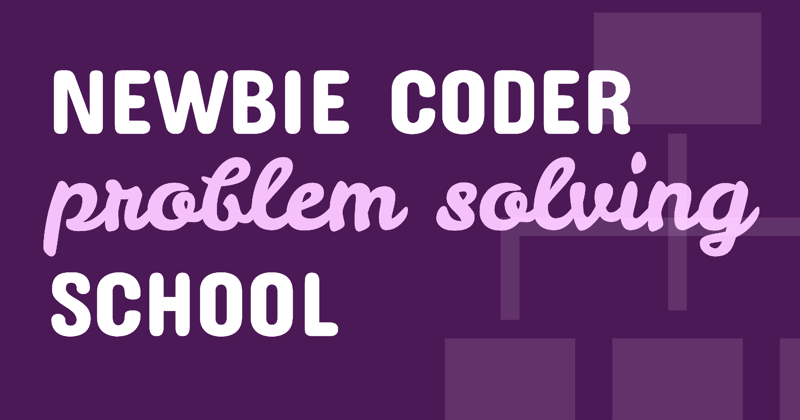 In my newest course, Newbie Coder Problem Solving School, I'll help you learn essential, foundational programmatic problem solving skills to help you plan out your approach prior to coding. Programmatic problem solving is a unique animal and a critical skill required to be an excellent web developer!
In Newbie Coder Speed Learning School (COMING SOON!), you'll gain valuable understanding of how your brain absorbs information, then train it to find and absorb—and retain!—what you get from all those online courses.
Additionally, you'll learn how to quickly navigate complex technical documentation, and new codebases! I hope to have this out before Fall 2020.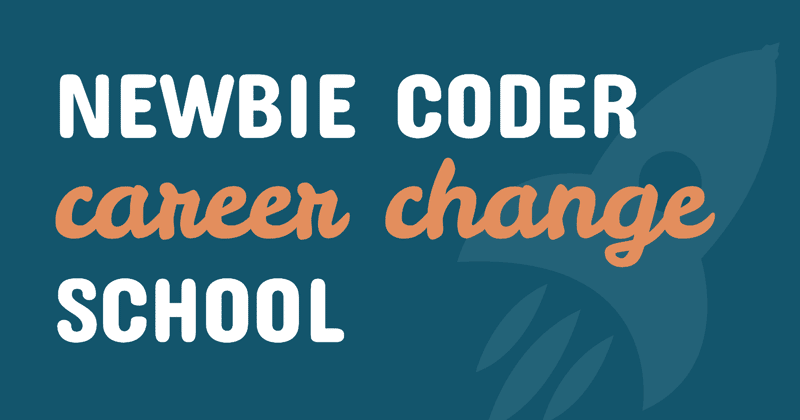 And with Newbie Coder Career Change School, a combination of online course AND personal coaching, I will personally help you to make your career transition as seamlessly as possible!
You'll create an actual career transition plan, build skills with direction and purpose, and receive the support and love you need to get from first lines of code to first day on the job!
The end result of all 3 of these courses is less stress, confusion, disorientation—and you'll get first dev job sooner! You can learn more about the courses on the website, enroll 24/7, and start in on the content immediately.
LEARN FO' FREE 💕 Catch the Newbie Coder Problem Solving School course launch replay video from May 30th! I shared tips for solving algorithmic challenges, and talked a little more about what's in the course.
Got questions about Newbie Coder School courses (or just want to tell me you love me)? Just shoot a reply to this email and I'd be more than happy to help you! 😀
🎙 This week's LVEC Podcast episode: Leveraging Twitter as a Developer!
Tune in TOMORROW MORNING for a new episode of the La Vie en Code Podcast!
This week on Episode 42, we're going to talk about TWITTER! I'm a big fan of the platform (even though it sucks in a lot of ways too haha)
There are tons of ways to use it to further your education and career, all while getting social exposure—which is particularly important right now, when we shouldn't be attending in-person events. Twitter is going to be your tech hub, because it's Where Tech Lives™.
I'll share my own story of how I found existing communities in tech, then built my own community as I discovered what the industry needed that I could provide. Either way, the result of my Twitter community time has transformed my experience in tech for the better! 😀
SUBSCRIBE to the podcast on iTunes, Spotify, and Stitcher!
And of course, if you like what you hear, please leave me a ⭐️⭐️⭐️⭐️⭐️ review and a kind comment. I love hearing from my listeners. 🥰
Ok, onto the hand-picked resources, and I hope I'll get a chance to see you in the courses!
Peace, love, and code,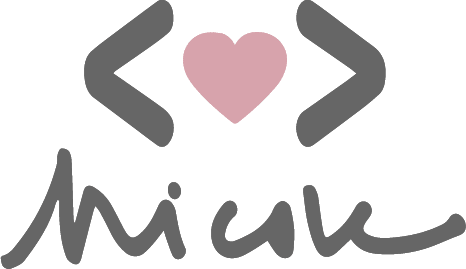 P.S. If you're not already, be sure to follow me on Twitter @lavie_encode! :)

💻 dev goodies
📝 Some really helpful and supportive freeCodeCamp forum posts (go sign up even if you don't use FCC!):
📝 Add dark mode to your websites with CSS (by @dcodeyt)
📝 5 tips for getting alert fatigue under control (by @KludyHannah)
📝 Projects to complete when learning web development (by @MichalDulik)
📝 50 free tools and resources to create awesome user interfaces (part 2) (by @DavidePacilio)
📝 The strategy I used to become a successful freelance developer in Upwork (by @DessyPeralt)
📝 Sisters of code: Cambodia's first female coding club (by @codeorg)
⏯ Chapter 1: "Basic HTML" from Learn Enough HTML to Be Dangerous (by @mhartl and @leedonahoe)
⏯ Ladies Of Code London is a meetup group with more than 3600 members, aimed at meeting the needs of women and non-binary people. They have an awesome YouTube channel with their "Get into..." series, where they dive into different careers in tech
Psssst... you're awesome! ✨