happy monday devfriend!
What's up with you? Got something you're looking forward to this week? I hope so, because having something to look forward to keeps us moving forward!
I have some some great news to start out this issue with! It's definitely a big deal to me, at least, but I feel great pride in myself for sticking with the hard work.
Those strong negative emotions I was experiencing the past month or so? They're getting better. 😊
They're not 100% gone. But like, when I think about them, the reaction just isn't as strong anymore. I don't cry. I just feel what comes up, and the amount of time it stays with me has been much shorter. And then, I move on.
It's crazy how our brains learn to adapt like that. We not only learn, but if we're doing the work, we inevitably find that our trauma sources have less and less control over us!

I talked about negative emotions, and now I want to focus on the positive—because there is so much positive to feel while you're not only learning to code, but living life.
love
happiness
joy
excitement
relief
accomplishment
pride
...and so many more positive emotions that we can feel while working toward our dreams.
Feel those moments deeply, just as you would while sitting through negative emotions. They make us feel good, provide us with a strong boost of serotonin and dopamine (aka happy chemicals in our brain!).
Invoking these positive emotions is what's going to get you through when times get tough... and especially when those dreaded negative emotions show up.
Positive emotions directly combat negative ones, because you can't feel positive and negative at the same time. It's one or the other.

It might sound a bit fluffy, but when I begin a group coaching call, I take a few minutes to meditate with my students.
I gently guide them to mindfulness, as well as a mind and heart open to the experience of learning. We're so fortunate as human beings to be able to absorb from the world around us; to learn and grow as much as we want to.
It's important to know that we can feel good anytime we want! One of the hardest things I had to learn was that happiness has to come before your dream life. We can't just wait until some arbitrary point where we've "made it".
Feeling good is your birthright. Nobody can take it away from you. You can certainly take it from yourself, though.
Sometimes I feel like nobody understands that better than I do, but so many don't recognize their absolutely magical ability to build their own reality. I didn't used to, but now I do. Previously, I just kinda let whatever happen to me, and shrugged it off as "the inevitable".
It took years of therapy (remember, I've been doing therapy for 9.5 years now!), reading and listening to others, and taking the time to look inside. But I can now sincerely say that I am able to feel happy for no reason. The fact that I'm here and healthy are reason enough.
Turn your attention to these experiences, and revel in the positive feelings you feel (maybe even just reading them!):
💕 Finishing a lesson in a tutorial, and using what you just learned correctly!

💕 Just getting your damn code to work! 😁
💕 Building even part of a small feature in a product that makes others' lives a little bit easier!
💕 Having your open source contribution accepted into part of the main code base!
💕 Getting your first developer job offer for even more than you originally thought you'd get!
💕 The love and support of your wonderful developer community... who have become my family in place of my own dwindling familial unit!
💕 Helping another developer learn from your knowledge—confirming that you do in fact know enough to teach others with confidence!

Practice gratitude while you're learning to code, my friend. There is so much to be grateful for during this experience!
You have a computer to write code on, internet access, and resources to be able to educate yourself—built by other people. You can leverage them to make your life exactly what you want it to be.
(Just last week, I recorded a podcast episode about loving the experience of learning to code. You are in such a more powerful position than you think you are!)
Be mindful, be grateful, and lean into those positive feels. You're going to have a great week. I feel it in ma bones. 😘
Peace, love, and code,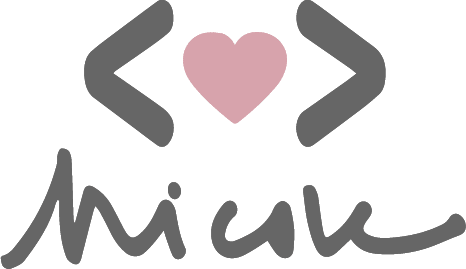 P.S. If you're not already, be sure to follow me on Twitter @lavie_encode! :)
No real announcements this week, just some heads up on stuff! ⬇️
Check out Newbie Coder School!
So, Newbie Coder School is my new suite of self-paced online courses and cohort programs designed to help serious coders build fundamental skills—ALL without a line of code.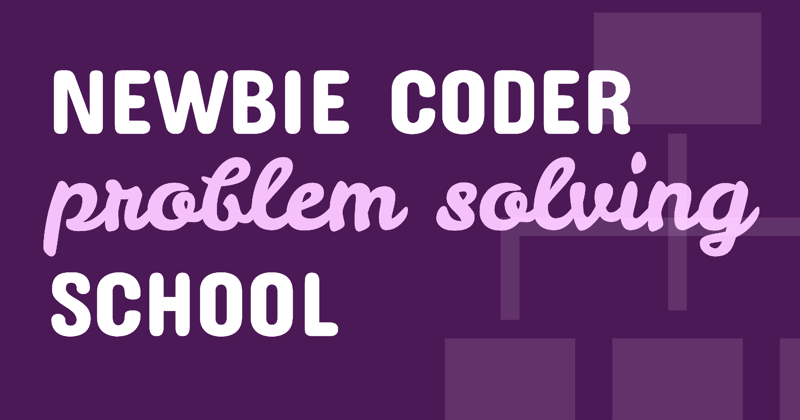 In my newest course, Newbie Coder Problem Solving School, I'll help you learn essential, foundational programmatic problem solving skills to help you plan out your approach prior to coding. Programmatic problem solving is a unique animal and a critical skill required to be an excellent web developer!
In Newbie Coder Speed Learning School (COMING SOON!), you'll gain valuable understanding of how your brain absorbs information, then train it to find and absorb—and retain!—what you get from all those online courses.
Additionally, you'll learn how to quickly navigate complex technical documentation, and new codebases! I hope to have this out before Fall 2020.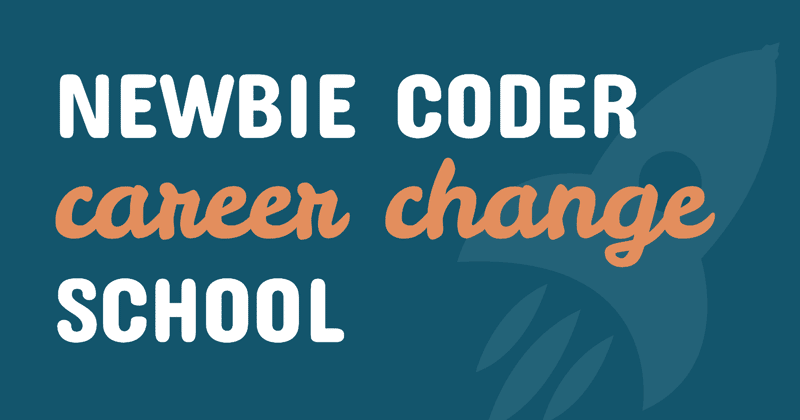 And with Newbie Coder Career Change School, a combination of online course AND personal coaching, I will personally help you to make your career transition as seamlessly as possible!
You'll create an actual career transition plan, build skills with direction and purpose, and receive the support and love you need to get from first lines of code to first day on the job!
The end result of all 3 of these courses is less stress, confusion, disorientation—and you'll get first dev job sooner! You can learn more about the courses on the website, enroll 24/7, and start in on the content immediately.
LEARN FO' FREE 💕 Catch the Newbie Coder Problem Solving School course launch replay video from May 30th! I shared tips for solving algorithmic challenges, and talked a little more about what's in the course.
Got questions about Newbie Coder School courses (or just want to tell me you love me)? Just shoot a reply to this email and I'd be more than happy to help you! 😀
🎙 This week's LVEC Podcast episode: How to Break Down a Problem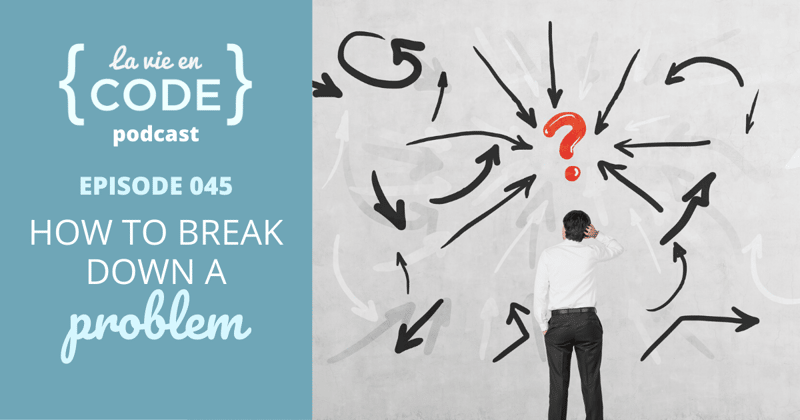 Tune in TOMORROW MORNING for a new episode of the La Vie en Code Podcast!
This week on Episode 45, we'll be digging into the process of breaking down problems into smaller, more bite-size pieces that can be easily solved. Solve those little problems, and you have a proper solution to the bigger one!
You'll definitely want to catch this one, because I really strongly believe every developer at every level can ALWAYS benefit from leveling up their problem solving skills.
SUBSCRIBE to the podcast on iTunes, Spotify, and Stitcher!
And of course, if you like what you hear, please leave me a ⭐️⭐️⭐️⭐️⭐️ review and a kind comment. I love hearing from my listeners. 🥰
Ok, onto the hand-picked resources, and I hope I'll get a chance to see you in the courses!

💻 dev goodies
📝 Some really helpful and supportive freeCodeCamp forum posts (go sign up even if you don't use FCC!):
📝 5 tips to solve your problems as a developer (by @gaelthomas_)
📝 Every programming tutorial for beginners (by @Cilvako)
📝 How to learn JavaScript as a beginner (by @kethmars)
📝 How to write a Software Engineer resume (by @coleturner)
📝 The 25 most recommended JavaScript books of all time (by @PierreDeWulf)
📝 How to make a WordPress website from scratch (by @adrian_twarog)
📝 Share your dream multiplayer game scenario (by @pilotpirxie)
Psssst... you're awesome! ✨