happy monday devfriend!
Hope you're having a great start to your week, and had a fun weekend! 😊
It might feel hard to use that word these days: fun. What's fun about being indoors and restricted from living your old life?
I've been home for months—so the concept feels largely unfamiliar. I know it's the safest thing both for myself and for others. Summer be damned. But this is my favorite season, and I'm really mourning that part of our reality.
In this issue, I wanna tell you the funny story about how I built my own social scene to compensate for the lack of socialization we've had available to us during the pandemic. 🕺🏽
So, I had pretty much zero social life before. Pre-COVID, when I did hang out with people socially, it wasn't really always a healthy experience. 😕
The people were folks I could easily impress but didn't add a whole lot of value to my life. Sometimes I even regretted spending time with them. I just didn't want to feel... inadequate, I guess. Those damn negative emotions. Remember, I didn't know how to sit with them until recently.
Anyway, most of the tech events here in Massachusetts are in the city, but the entire process of getting into the city from the suburbs gives me massive stress. I feel like every time I go to Boston, I get at least one parking ticket. 😭
I really missed and still miss people. In the beginning, I think a lot of us were like "oh sweet, as an introvert I've been practicing for this my whole life". But soon after, once reality set in, I was feeling uncomfortable.
Back in April, when we were all on lockdown, we had some Zoom "happy hours" happening after work hours. I attended a bunch and was so happy to meet new people in the industry! Like, it felt GOOD to see and interact with folks, and everyone was so kind. I felt included.
I had a great time, but I'm still one that likes to create my own space with my own vibe. I'm the type of woman who takes matters into her own hands and will set up camp anywhere! Then I make a lotta noise and people come to see what the ruckus is all about. 🙃
At first, it was a dance party nobody showed up to where I shook my ass to Venga Boys' "Boom Boom Boom Boom!" for 30 minutes straight, for no reason.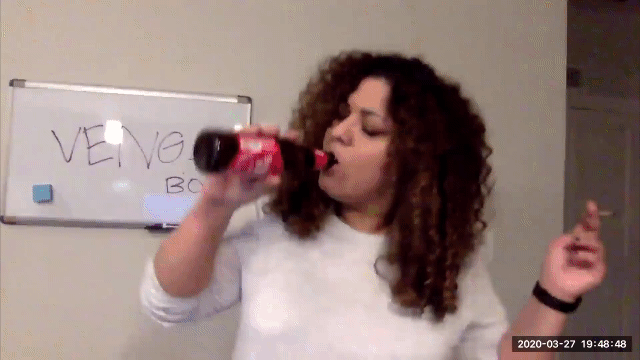 (Yes, I wrote "Venga Boys" on the whiteboard behind me)
I held another social event shortly after, at which I did not play Venga Boys excessively, and—to my surprise—people showed up. I'm sure it's just a coincidence though.
During that Zoom, for the first time in my life, I began meeting people who came to me. I didn't have to try to get in with a social group. I was creating the social group.
They were mega smart engineers, developers, and more, with absurd senses of humor like mine. The whole experience reminds me of the "if you build it, they will come" adage. People saw me and they came because of the environment I had created, which was pretty heckin' chill.
With Zoom, I'm also able to stream my computer audio, so I stream a collaborative playlist where people can add songs to it like a jukebox. No awkward silences! People are usually talking too much anyway, plus silences aren't always awkward. 🙃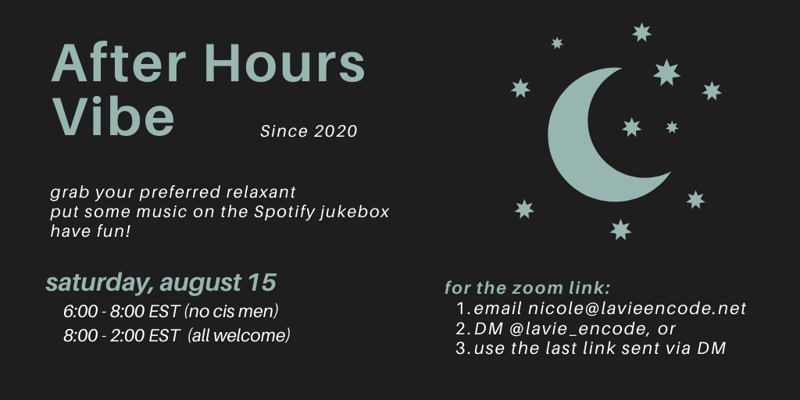 I decided to name the Zoom hangout I guess, and started sharing some promos. I felt soooo awkward and dorky branding a Zoom chat, but I wanted it to be distinct. Brands aren't all bad!
Since its inception, people had been telling me that my weekly Zoom hangout had such a great vibe. A good, positive, supportive energy.
That was my #1 goal in creating this space. My environments just seem to change for the better when I'm around. 🥰
And so, the After Hours Vibe was born! 🌙✨
Every Saturday night at 6 PM EST (22:00 UTC), I open up my Zoom room for the dope denizens of Tech Twitter. Sometimes, my real life friends pop in too! I have REGULARS now!
I've been hosting "The Vibe"—yup, it now has a nickname—for months now, and I've met over 100 new people, EASILY. People contact me for the link, which is always the same, so they can just bookmark it.
One of the best things about socializing via video chat is that you gain some abilities you can't leverage in real life, like turning off your cam or mic to disappear for a while. Attendees don't even need to use their mic or cam—there's text-based chat as well that people read and interact with.
About 6 weeks ago, I decided to make "VIP hours" from 6-8 PM EST, a safe space with no cis men allowed. I love that period of time, because folks are so grateful for it! 💕
And you know what? NOT A SOUL came to me to start a problem about it. I really shouldn't be surprised about that, but I'm so proud of my community and how supportive we are of our fellow techies.
The Vibe is supposed to go until 2 AM EST (06:00 UTC), but I will shamelessly and enthusiastically admit that we've gone until the sun came up. It gets a little... sometimes very... ratchet. We have THAT much fun. 😂
These people have become not just the friends I love, but the family I never had. I have dozens of regular attendees who are in a Discord with me now—which I created, of course. 😂 I wanted to connect with these people I had come to know and love in between Saturday nights.
Everyday, folks are chatting and supporting each other. It's really something else, and I recognize that I'm part of something much bigger than myself. I feel like people have my back if I need to talk.
I love that I take the initiative to lead at a time when others need leadership. I'm proud of myself for stepping up to support the community when we all needed it.
You should be staying home, honestly, if we want to weather the pandemic together. If you have things going on Saturday night that include going out to see people, I sincerely hope you'll rethink that.
We know for a fact that it's not safe or smart for ourselves or others. So, consider coming to hang out with us! Just reply to this email and I'll send you the link.

We don't have to give up our fun. Connect with your people. We're here, waiting to chill with you! 💕
Peace, love, and after hours Vibes,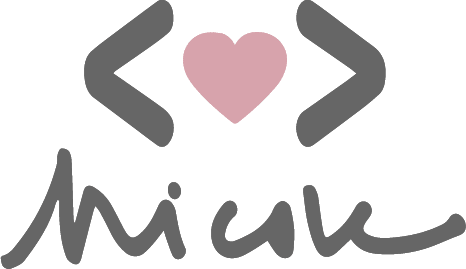 P.S. If you're not already, be sure to follow me on Twitter @lavie_encode! :)
No real announcements this week, just some heads up on stuff! ⬇️
Check out Newbie Coder School!
So, Newbie Coder School is my new suite of self-paced online courses and cohort programs designed to help serious coders build fundamental skills—ALL without a line of code.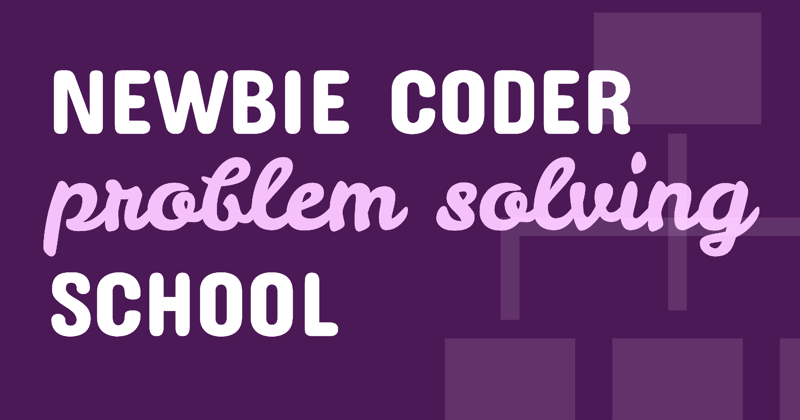 In my newest course, Newbie Coder Problem Solving School, I'll help you learn essential, foundational programmatic problem solving skills to help you plan out your approach prior to coding. Programmatic problem solving is a unique animal and a critical skill required to be an excellent web developer!
In Newbie Coder Speed Learning School (COMING SOON!), you'll gain valuable understanding of how your brain absorbs information, then train it to find and absorb—and retain!—what you get from all those online courses.
Additionally, you'll learn how to quickly navigate complex technical documentation, and new codebases! I hope to have this out before Fall 2020.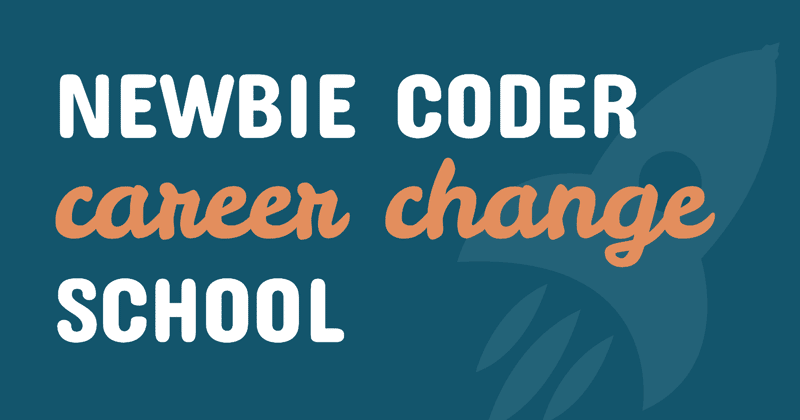 And with Newbie Coder Career Change School, a combination of online course AND personal coaching, I will personally help you to make your career transition as seamlessly as possible!
You'll create an actual career transition plan, build skills with direction and purpose, and receive the support and love you need to get from first lines of code to first day on the job!
The end result of all 3 of these courses is less stress, confusion, disorientation—and you'll get first dev job sooner! You can learn more about the courses on the website, enroll 24/7, and start in on the content immediately.
LEARN FO' FREE 💕 Catch the Newbie Coder Problem Solving School course launch replay video from May 30th! I shared tips for solving algorithmic challenges, and talked a little more about what's in the course.
Got questions about Newbie Coder School courses (or just want to tell me you love me)? Just shoot a reply to this email and I'd be more than happy to help you! 😀
🎙 This week's LVEC Podcast episode: How I Created My Dream Career With Online Classes
Tune in TOMORROW MORNING for a new episode of the La Vie en Code Podcast!
This week on Episode 46, I talk about the reasons why I decided to create my own online course—and then make a whole career out of it. 😊
My sharp turn into entrepreneurship was actually driven by my love of online courses, because they played a huuuge part in overcoming my learning disabilities with a different learning environment.
Online courses mean SO much to me, and I want to tell the story of my journey into EdTech entrepreneurship (that piggy backs off my previous episode on entrepreneurship). Definitely a must-listen!
SUBSCRIBE to the podcast on iTunes, Spotify, and Stitcher!
And of course, if you like what you hear, please leave me a ⭐️⭐️⭐️⭐️⭐️ review and a kind comment. I love hearing from my listeners. 🥰
Ok, onto the hand-picked resources, and I hope I'll get a chance to see you in the courses!

💻 dev goodies
📝 Some really helpful and supportive freeCodeCamp forum posts (go sign up even if you don't use FCC!):
📝 4 things in web development I've learned in 2020, so far (by @cydstumpel)
📝 Burnout is real: How to deal with it (by @MsAmarachukwu)
📝 Git: a simple introduction (by @sespinoza-dev)
📝 9 projects you can to do become a Frontend Master in 2020 (by @simonholdorf)
📝 101 tips for being a better programmer (and human) (by @EmmaBostian)
📝 HTML can do that? (by @_ananyaneogi)
📝 101 bash commands and tips for beginners to experts (by @_awwsmm)
Psssst... you're awesome! ✨