happy monday devfriend!
Whew, another fun weekend of Zoom partying at Vibe Clurb—lots of new faces this week!! :D We had a birthday and everyone got wild and it was a blast! I love that I'm making new friends during the pandemic. 😍
Aite, I tend to write about stuff I'm going through right now, and tbh things have been really quiet. But I wanna talk about why that is, because I wear this has been the single biggest life change that has improved my life and mood SO MUCH.
Y'all, I FINALLY GOT HELP with the things I've been fighting to handle myself.
I'm such a god damn perfectionist and control freak, and I've been really trying to take my hands off the wheel more and more lately. I actually have freedom and time to myself now! 👏🏽🙌🏽
I got to a point where I was burning out in cycles, and La Vie en Code—my lifetime passion project and career—was starting to actually give me anxiety.
That is a major problem, because I love what I do: helping you, my fine friend, to have the most fulfilling and transformative experience possible while learning to code. I never want to get to a point where I dislike what I do.
I avoided spending money on help for a long time, because I thought it was going to be a waste of time. I'd have to explain where I was; how I thought. I would have to communicate every last detail to them in order to get the help I needed.
In reality, I was able to get so much more done, learn from doing things correctly the first time instead of learning only from my mistakes. I couldn't do everything perfectly, as much as my perfectionism told me it was my only option.
So let me get right to the point: time you're spending not getting help could very well be time wasted.
Because I run a business, I had to pay for my help, but you know what? Since I started accepting help in my business, I've gotten SO much better at asking for help with the things I struggled to do.
Banging your head against the job search experience? There are other options, I assure you. Put yourself out there and be honest about your struggles.
Stuck on your code challenges? I know you want to push through until you make your own breakthrough, but trust me... diminishing returns are a thing.
Your time and energy is valuable and it the process of getting things done and moving forward doesn't need to be as hard as we tend to make it. Get even just a hint, and you'll be moving again.
Wouldn't it be so much easier to join a community of developers that can help you out by finding a job, or helping you fine tune that code and deepen your understanding? Just show up as yourself, imperfectly.
Accepting help doesn't mean that you've failed in any way. Sharing credit isn't a bad thing, either! It means that while pushing a boulder uphill, you realize will feel heavier the longer you struggle. Shout out for help before the last second where you're getting crushed!
The sooner you face the reality that maybe, just maybe, you can't do this on your own—the better off you will be. It might take another person, or people, to help you get where you need and want to be.
(And I assure you: when you ask for help from the right people, they are always better at what you're trying to do than you are. This took me the longest time to wrap my head around tbh.)
So this week... I want you to ask for help with something you'd normally try to struggle through!
Ask before you get to the point where you too are burning out in cycles and having to figure out how to get back on top of things.
Ask despite the fact that your ego will probably take a hit in the process of accepting said help.
No person is an island, and I'll be here to help you get where you need to go, and grow to fill your maximum potential. 😊❤️
Peace, love, and code,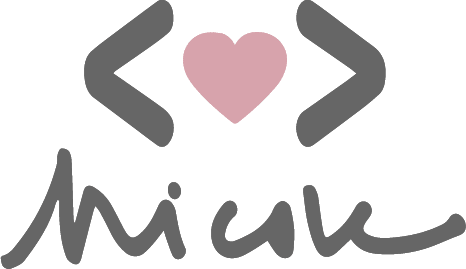 P.S. If you're not already, be sure to follow me on Twitter @lavie_encode! :)
No real announcements this week, just some heads up on stuff! ⬇️
BIG changes are coming to Newbie Coder School!
Newbie Coder School is my new suite of self-paced online courses and cohort programs designed to help serious coders build fundamental skills—ALL without a line of code.
And it's going to be changing very soon. I can't let the cat out the bag just yet, but I promise it's something that will help me help you on a deeper level than before. I get to put more of myself into the content you get from me!
Newbie Coder School courses are still available for enrollment while these changes are being worked on! I'll let you know if I close enrollment for any period of time. :)
I'm SO EFFING EXCITED to get these changes in front of you! Keep an eye on the newsletter over the next few issues and I promise I'll give you more info as I have it!

🎙 This week's LVEC Podcast episode: What To Do When You Wanna Give Up Coding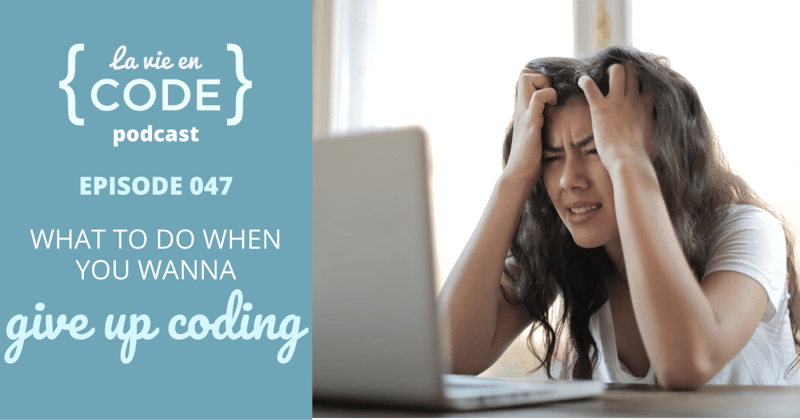 Tune in TOMORROW MORNING for a new episode of the La Vie en Code Podcast!
This week on Episode 47, I'm gonna talk about the MANY TIMES I wanted to give up on my journey into programming, and how I talked myself off the ledge. In fact, I discovered that there are ways to avoid even getting near the ledge.
This shit gets hard, and anyone who wants to help you will embrace that fact—not try to cover it up. Shame gets us when we start to fall off. I totally get it, trust me.
So, let's help you navigate those tough emotions and build up some valuable resilience!
SUBSCRIBE to the podcast on iTunes, Spotify, and Stitcher!
And of course, if you like what you hear, please leave me a ⭐️⭐️⭐️⭐️⭐️ review and a kind comment. I love hearing from my listeners. 🥰
Ok, onto the hand-picked resources, and I hope I'll get a chance to see you in the courses!

💻 dev goodies
📝 Some really helpful and supportive freeCodeCamp forum posts (go sign up even if you don't use FCC!):
📝 Let's build battleships in pure JavaScript, HTML, and CSS (by @ania_kubow)
📝 Productivity: are you a fox 🦊 or a hedgehog 🦔 ? (by @KannusamiRaksha)
📝 Best resources to learn JavaScript as a beginner (by @catalinmpit)
📝 6 GitHub repos for instant knowledge boost (by @mfarajewicz)
📝 My favorite CSS hack (by @kuizinas)
📝 CSS can do that? (by @_ananyaneogi)
📝 29 must read books for programmers (by @BlaineOsepchuk)
Psssst... you're awesome! ✨